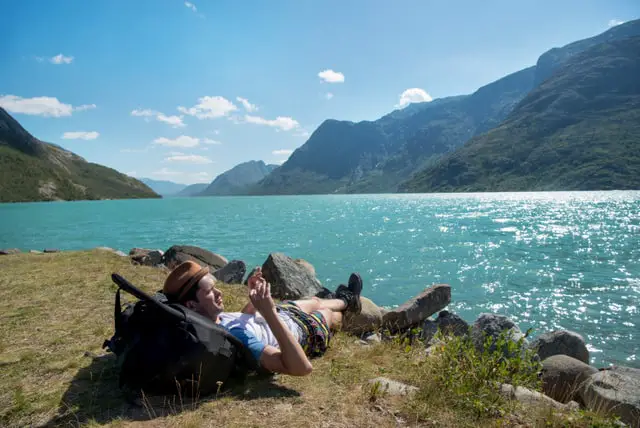 In this day and age, traveling and working is now a possibility. Many have embraced this kind of lifestyle and now traveling to different corners of the earth. Thanks to the recent technological advancements, this new way of working is now possible.
Deciding to become a digital nomad is not as easy-peasy as many think. Many things need considering. Before we dive into the life and working essentials of a digital nomad, we must first understand what a digital nomad is and what are the demands of the work.
HOW DOES A DIGITAL NOMAD DO WORK?
A digital nomad is a person who uses telecommunication technology to allow them to do their job remotely in another country. Most of the time, digital nomad work like freelance projects or software programming work is completed with a laptop. However, phones and tablets have advanced enough so that they too, can be used to perform these tasks just as long as it can connect to the internet. They can works remotely either locally or abroad and communicate with their employer via phone, chat or VoIP.
You might be surprised at how many companies outsource jobs to digital nomads versus them hiring regular employees. You might think that this is a bold move, but this is also a money saving move. Most companies outsource jobs such as data entry and data mining because it costs a lot less than hiring a regular employee.
Digital Nomads are very popular because of their way of living. Their lifestyle often involves traveling to many exotic places and exploring different cultures. They have the option to combine work and leisure at the same time, and many have bragged about how they can make a living and travel at the same time. All of these are possible as long as an internet connection is available.
Best Locations for Digital Nomads
Most digital nomads travel often and frequently relocate, sometimes even several times per year. Freedom of movement and movement is one of the advantages of living this lifestyle.
Before a place is judges as a digital nomad-friendly city, several criteria need to be measured. From weather to cost of living, they pose a significant influence in a digital nomad's decision whether a place can be put in their destination list or not.
When it comes to work, evaluating cities to move to should incorporate what kind of start-up community exists. For the digital nomad entrepreneur, a start-up community can be beneficial because these communities have people who help each other out and they can collaborate on projects together.
Some of the cities that most digital nomad visits are the following:
Prague, Czech Republic
According to many digital nomads, Prague is a beautiful place to visit. There are lots of cafés to work in with fast internet connections, and the cost of living is about a little over two thousand dollars per month.
Lisbon, Portugal
This place has been given great reviews due to the beautiful weather, beaches, and museums. But the surveys also mentioned an active nomad community present in the area. Head to this place if you want to get some vitamin "sea" and educational experience as well.
Ho Chi Minh, Vietnam
This city has gained so many good reviews because of how alive it is. The food is excellent, and the culture is vibrant. The cost of living might be a bit higher than before but is still relatively cheap. The internet service is still a little sketchy, but it is getting better.
Bangkok, Thailand
Although weather here is not as pleasant as the others and air quality has diminished due to pollution, this place still is considered as a digital nomad friendly place because of the many activities to be done here, the friendly people, the free WiFi and the low cost of living.
Medellin, Colombia
Medellin has been gaining popularity because of the beautiful weather and fantastic food. Co-working spaces are abundant, and the community of digital nomads is busy as ever. Tack this place on your digital nomad map to experience the celebrated "start-up" vibe of this city
Buenos Aires, Argentina
The cost of living here is cheap at an estimated $1,191/month. There are many activities to choose from, the nightlife is bustling, and there are lots of places from which to work.
Tallinn, Estonia
Not particularly the type of weather for beach bums because it is chilly during winter, but the e-residency offered here has attracted many digital nomads. There is nightlife and incredible scenery to be enjoyed here too.
POSSIBLE JOBS FOR A DIGITAL NOMAD
As a digital nomad, you have many options to choose from when it comes to a job. It all depends on the skills you possess. Here is a list of career job options that you can consider:
Programming
If you can code, this can be a perfect skill for you to start your digital nomad life. Many companies hire offsite programmers to help them reach their milestones. Ask around or use online platforms to look for such jobs.
Website Developing
Development work for websites is one of the consistent skills needed for projects in the marketplace. It is very lucrative and can be done anywhere as long as you have the right tools and knowledge to do so. Many digital nomads are website developers and work in coffee shops around the globe.
Book Writing
Ghostwriting can be categorized under book writing because many companies are interested in hiring writers to progress or develop book projects. Others are individuals who need a new and fresh set of eyes to help them finish their books.
Article/Blog Writing
As a blog writer, it can mean either you are writing website articles for a single website or employed by a company that is delivering written materials to clients. Whatever the case is, if you can write an essay about a particular topic with minimal research time then you can tap into this market and profit from it.
Video Editing
If you have the software and have the knowledge to do this job, then consider this as one of the skills from which you can profit. There are video editing jobs that offer a large amount of salary if done within a specified period.
Transcription Jobs
For those freelancers who are just starting their digital nomad life, this is one of the primary jobs they can take that you can begin to quickly and get fast income. It involves either watching a video or listening to an audio recording and then transcribing the content into a readable document.
Data Mining /Data Entry
A perfect starting job for first-timers. Very easy to do as it involves visiting websites and collecting relevant data, collating them and compiling all of it before making a report and passing it back to the employer.
Administrative or Personal Virtual Assistant
If you have the knack of being organized when it comes to your digital life and personal life then becoming a virtual assistant can be your online job, this job can involve many tasks from appointment setting to managing essential files for your employer. The key here is whenever your boss asks for something; you know where to find it.
WORKING ESSENTIALS OF A DIGITAL NOMAD
So now let's roll up the sleeves and take a look at what you'll need to make your work successful. If you are one of the many who has been thinking of joining the growing community of digital nomads, you will probably be asking what you will need to start this lifestyle. There are working essentials that a digital nomad should possess to make sure that tasks get done and deadlines met. These are the basics.
In the big picture, the aim you should have is to create a portable "mobile office" – one in which you can pick up and take with you anywhere. It has to be reliable, and it also must have all the equipment needed to do your work whether it is at the corner cafe, the beach or a start-up cubicle.
Must have tools and gadgets
Proper preparations can help in transitioning into the digital nomad lifestyle. The following are a few of the essential tools that a digital nomad must own. Additionally, you need to start being good at using telecommunications – WiFi and Mobile Data.
Laptop
A digital nomad's best pal and the primary tool is the laptop computer. Because much of your business work depends on the laptop, you need something durable, can withstand a lot of traveling and countless hours of work is a must. Look for one that can support the applications and programs you need for your job.
Phone
When you travel, you have the responsibility to be still able to connect with your team and employer. Your phone is the best way for you to stay connected with your work life. It is your responsibility to check in now and then so that everyone knows that you're still okay and working. Find a phone that allows you to connect to the internet, and this can save you in a pinch when the WiFi is not working.
Tablet
Consider this as your back-up gadget when your laptop decides to quit on you for no apparent reason. This tool should be able to connect to the internet, can run a VoIP program and if possible, can help you get your job done and can be very useful for writers and transcribers.
Headset
A good noise-canceling headset can be essential for digital nomads who performs a lot of calls during working hours. Even if you are inside a crowded café, your conversation will remain crystal clear with this tool.
Back-up internet connection
If for some reason you don't own a phone that has data connectivity, owning a back-up internet connection should become one of your priorities which will prevent you from losing touch with your team and employer as well as help you finish your job on time.
Documents a Digital Nomad Should Possess
Holding on to proper documents is essential to expedite their travel planning.
Passport
Your passport serves you in so many ways. It is not just a booklet that allows you to travel to different places, but it also is your all-in-one identification document. Keep this in a secure, safe location and always carry it with you when you travel.
Insurance Documents
These documents are vital to have. A copy of your insurance documents would help you and your other digital nomad friends take care of you if ever something wrong occurs during your travel or your stay abroad.
Productivity Apps for Organizing Your Work and Projects
You might notice that successful digital nomads have stressed time and time again how time management and productivity apps are the keys to their success. Below is a list of a few of the favorite apps that digital nomads use to organize their thoughts or tasks, collaborate and keep in contact with team members or employers.
Google Drive
Many digital nomads swear that this app has saved their lives countless times. When you are traveling, and you happen to be in a third world country, power outages can be widespread, or maybe you were just too lazy to charge your laptop, and the battery died in the middle of your work. Google drive can autosave your document into a cloud drive that you can retrieve the moment you log back in.
Evernote
Think of this as an online note organizing app. Clip webpages and store them in the application for easy viewing offline. Evernote is downloaded directly to your computer and phone easily synchronized across devices.
It launched a feature called "Scannable" which is very useful for both digital nomads and non-digital nomads too. It allows you to take a picture of any written document and Evernote automatically saves a high definition copy of it for future review.
Trello
Trello is an online list making and task managing application that allows you to organize your tasks into boards, lists, and cards. As a free application, it can be synchronized across devices.
This application is a project management tool developed in Toyota to maintain flexibility while keeping productivity high. Trello is used by individuals to manage their tasks or by a team to follow the flow of the whole project.
Asana
Asana is an app similar to Trello that provides you with an easy way to organize work, help you and your team meet deadlines, collaborate with your team, share files, track you and your team's progress and view your overall project development in a glance.
This app is designed to be an all-in-one collaboration, communication and file sharing tool that can be used by companies and individuals.
Slack
If you've suffered the burden of switching from one messaging app to another then chances are, you have heard of this tool.
Slack is a messaging app that brings all your messaging app into one space. Designed so that messages are organized into channels for better viewing and monitoring, it can be integrated with Hangout, Skype and Dropbox.
Workplace flexibility and some common etiquette
Where you decide to do your work – your workplace – is an essential part of being productive. A good workplace, whether it is a corner in your apartment, the balcony, the rooftop, your favorite cafe, by the poolside or a grassy shaded place by the beach, can be the difference of getting your work done or not making any progress. The workplace that you choose is one in which you can rely on to give you the conditions to do deep work. Here are a few ideas and things to think about.
As a digital nomad, coffee shops can be your best friend. They provide you warmth during the cold weather and fresh air during hot summer days. Be advised that being a digital nomad in a coffee shop doesn't mean that you own the place. Chances are, there would be other digital nomads with you there. Follow these simple tips so that you don't become a nuisance to anyone.
Consideration goes a long way
Remember that coffee shops are a place where people socialize and typically not work. You don't own the site and share it with people who came there to relax, so be ready for some loud chatter and noise. Use noise canceling headphones if you know that you will be doing a lot of calls. Also, it is best to take note of the volume of your voice during calls so that you don't become the noisy nomad.
As you are inside a coffee shop, you will probably encounter other digital nomads as well. Watch out for their stuff and the stuff of the other customers as well, while they take a much-needed bathroom break or maybe a cigarette break. You'd want them to do the same thing for you.
Don't be a socket blocker
There might be other digital nomads in the coffee shop you are in, or maybe that lady needs to charge her phone a little because she is waiting for an urgent call. If you see anyone who is looking for a socket, offer to move so that they can juice up their device too.
Vary your coffee shop office also known as "coffice"
Move from one coffee place to another, allowing you to get your bum off the chair and move around for some much-needed exercise. You can choose one "coffice" in the morning and then one during lunch and another for dinner if you're working late.
A best practice to follow for digital nomads is to find independent coffee shops and work from there. The big companies already earn a ton from their many branches so going independent means you are helping the locals make a living.
Order your keep
Don't overstay in one coffee shop and then order just a cup of coffee. Firstly, it is rude, and secondly, it is inappropriate. If you must stay for a long time, then make sure that you order enough food and coffee for the establishment to gain some profit.
Know where to find jobs
There are freelancing website platforms that offer a wide variety of freelance jobs from which you can choose.
Upwork
Upwork is one of the leading freelancing website platforms today. You need to create a profile sign-up and wait for it to be approved. Once approved you can search their website for jobs.
Freelancer
You can find any kind of job possible for a freelancer here. All you have to do is complete your profile and Freelancer will match jobs to you according to your skill set. You can also browse their website for other jobs.
Fiverr
It is an online marketplace for freelance service. Its name came from the fact that services here start from $5. You can create a profile and start posting the services you offer online.
ServiceScape
This site offers freelance jobs for editors, translators, graphic designers and writers. It works similarly to other freelancing website platforms. You create a profile that would serve as your resume and then apply for jobs posted on their website.
Advantages of a Digital Nomad working lifestyle
Being a digital nomad has many advantages when it comes to working. Some consider these advantages as enough to keep them away from the usual nine to five jobs for years! It is these same advantages that lure many regular employees into the digital nomad life.
Travel Opportunity
Travel might be the bestseller of being a digital nomad. One gets to travel the world and taste different cuisines when you are a digital nomad. It takes careful planning to become one, and the risks are nothing to joke about. But as this is the highlight of being a digital nomad many still consider this option.
Job Flexibility
Many digital nomads accept multiple projects due to the job flexibility this kind of lifestyle offers. Some possess more than one type of job too.
The point is that, once you have realized what kind of skills you have, it can be programming, web designing or you might have a knack for spotting grammar errors; you can monetize them by applying for a job that specifically caters to your skills.
Working Hours Options
Most of the time digital nomad works on their scheduled hours. Some companies require others to work during the company's working hours too. For the ones that are not paid hourly and is more of a per output based salary, the working hours are very flexible.
The option to set your own working time is very inviting for regular employees who are feeling suffocated in their office cubicles that offer no view at all.
Meeting New People
Digital Nomads who travel frequently have opportunities to meet new people and immerse themselves in the culture of the current location they are staying. Meeting new people can help digital nomads to gain knowledge that is not otherwise readily available in their local area. If you do your work at start-up communities, this is also a way to meet new people.
Having a chance to travel and meet new people can help bring positive energy back into a digital nomad's life. Sometimes a change in location and a new set of friends is all it takes to refocus a digital nomad.
Working Remotely
Working remotely means that you are doing your work outside the typical company office habitat and instead you are working inside a coffee shop or just somewhere where there is an internet connection. It can also mean you are working in the comfort of your own home, inside your bedroom and wearing pajamas.
Disadvantages of being a Digital Nomad and working remotely
Here is the flip-side of the coin:
Losing Focus
The danger of losing focus on one's work is considered one of the top disadvantages of being a digital nomad. Losing focus for so many reasons is easy. One of the main reasons why digital nomads lose concentration is the flexibility in their working hours and schedule. Most of the time, digital nomads get overwhelmed with the number of options they have and sometimes lose even the ability to decide.
Hard to maintain routine
Routine and schedule are necessary for being on top of your work and a tough thing for nomads to adhere to and it's due to the numerous opportunities for travel and adventure, human nature habits such as procrastination and many other reasons. It takes focused will power to keep to the schedule when there are countless other fun activities all happening at the same time.
Final Thoughts
Working successfully is an important part and vital skill to have if you want to keep the digital nomad lifestyle. As we have covered in this post, choosing the city, knowing the type of jobs that are available to you and having a reliable set of working tools can be the difference between succeeding and failing.
It is often useful to review with yourself the advantages and disadvantages of how you are living and the digital nomad lifestyle sometimes feels like an explosion of opportunities and difficulties all at once. However, once you have identified them, they will serve as a compass to make better decisions not only for your lifestyle but more importantly for your work.
Keep developing your work skills and improving your work tools so that you always feel on top of your work no matter where you are. It is possible, and the lifestyle choices you have made will be even more fulfilling if you have this feeling of mastery in your work. Good luck and keep it going!
I'm the owner of Digital Nomad Explorer. I've traveled to over 50 countries and been an expat in Scotland, Finland, and China. I was a digital nomad while having my own robotics company and traveled throughout Europe and China working remotely. Currently, I'm location independent with a home base in Kirkkonummi, Finland.