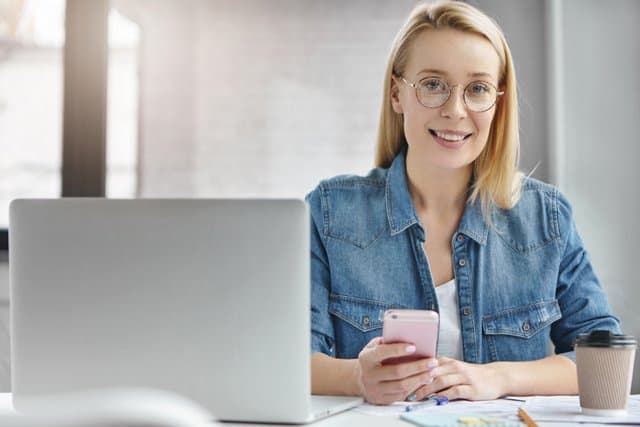 When starting the digital nomad lifestyle, your main goal is to create more freedom. The ultimate goal of the lifestyle where your life no longer revolves around your work. Your job blends into your day and supports your interests, especially while on the go. This freedom allows you to travel more and experience new cultures, which shapes your perspectives, both personally and professionally.
To create this lifestyle, you need to have some semblance of natural skills and work ethic. However, there are many options when it comes to jobs for digital nomads, and for the new entrepreneur looking to get a jump start on their career. These jobs start at beginner levels and can become more advanced as your reputation, brand, and ultimately demand from clients increases.
Jobs for Beginners – an Overview
Thanks to increases in our technological resources and the continued access to these resources, this dream is becoming a reality for more and more ordinary people. All that you need is some drive to hone your craft, access to available remote job openings, and the willingness to be a self-starting entrepreneur.
This article will provide a list of beginner jobs for digital nomad startups ranging from freelance work such as virtual assistants or web creation. It may lead you to the development and establishment of your own company, which might focus on video editing, podcast editing, or other forms of design work.
It will also list and provide job suggestions and descriptions of the necessary skills for each type of job. Then we'll give insight on how to find open digital nomad jobs.
Then finally, we will list specific jobs and give an indication where a digital nomad can find them. There are so many options out there that it is not possible to cover every angle and type of job. But we will try to cover the ones where you have a chance to jump in quickly and start today.
Starting the Process
Thanks to technology, if you have access to a computer and an internet connection, you can pretty much become as successful as you are willing to work for. Digital nomads are living proof that you can live a life balanced with work and play. You do not have to be location dependent on having a fruitful or fulfilling career.
It might seem too good to be true. Remote access to technological resources allows for online work processing so that digital nomad entrepreneurs can travel the world and experience different cultures on their own terms. They can create their own schedule and marketing themselves as a competitive job candidate cultivated by these learned and lived experiences that can help inform good work.
Although the original investment is difficult and requires patience and self-discipline, the payoff is excellent. Ultimately digital nomads get to choose the life they want for themselves without conforming to a job or lifestyle that remains joyless.
Digital nomads often find their feet within the comforts of technology. A great place to start is merely doing online research. Popular job options that might pop up include remote work and freelance jobs such as blogging for websites.
At the beginner level, you do have to be willing to work within some limited options until you get enough experience to market yourself as a credible hire. It means you might have to spend a good chunk of time looking for open job applications on various job sites as you start out.
If you are new to the game and don't have a lot of prior experience with a particular skill, you cannot expect to land a high-paying gig right away. You must pick away at the smaller jobs that are branded for beginners before you can climb up the ladder. If you are a freelance writer, for example, the standard pay for beginners is generally 1.5 cents per word.
Realize that with no prior experience, an employer is taking a chance on your writing. As you get better and better and build trust with an employer, they might give you a raise. You have to be steadfast in your efforts and stay the course until you build more relationships.
Skills to Develop Before You Travel
Later in the article, we will go over different professional skills that are necessary for digital nomad success. There are also some other skills in terms of preparation that will be helpful before you leave your home base.
The preparation time that is spent before people choose to adopt the work and travel lifestyle is valuable, and the decisions you make will either make or break the success of your digital nomad journey. You are likely already working a 9-5 job which means you will have to use your non-work hours – which are meant for catching up on sleep and your Netflix shows – to do research and begin formulating for your work and lifestyle transition.
This limbo period can be tough and discouraging, but we promise the outcome is worth the initial investment of time and money. In this process, take as much time as you need to feel entirely comfortable and organized. Prioritize the research you need to do and the skills you need to develop by making sure you are not biting off more than you can chew because this can be counterproductive and push you away from the lifestyle altogether. Continue reading for a foundation of skills we think are vital in the pre-nomad process.
Self-Marketing
Some so many people are looking to develop and live the same lifestyle, so you must learn ways to make yourself stand out among the rest. It comes from marketing yourself. The best way to do this is to do online research to develop those skills yourself or hire someone to help build those skills for you. Start on LinkedIn if you are looking to hire a specialist. If you want to give it an honest try before you outsource to others, you can find excellent research on Google, YouTube, and niche websites such as Upwork and WritersWork.
In terms of general research, look up digital marketing skills/tutorials, to get a good understanding of how search engine optimization (SEO) keywords work. These key terms will help whatever work you produce land higher up on browser search results to get you noticed quicker. Using keywords gets you noticed in landing page algorithms among a plethora of similar research and topics. Remember that to start strong. It's all about differentiating yourself and putting yourself in a position for ultimate success.
Work Smarter, Not Harder
Okay, so this phrase gets thrown around a lot, but it is especially true when starting your digital nomad lifestyle. Many people think the only way to reach success is through hard work alone. Although it is a crucial component in the equation, it does not have to be the only way. For example, say you have a passion for creative writing or writing marketing copy. The research tells you that the only way to become a truly successful nomad is to master computer coding or programming. Well, you might be thinking to invest time and money in learning a skill that you are not 100% passionate about or interested in. However, if you find yourself leaning towards this direction, you've missed the point of the digital nomad lifestyle.
Ultimately, travel is what is most appealing to digital nomads, but in reality, it should be the freedom to make your passion your life's work. If writing is what stirs your soul, and there is a need for it, that should become your focus. Do not let the outside opinions of others convince you that what you are good at is not enough to live on. If you have an ingrained passion for a particular skill, you will bring enthusiasm to your work. You will get more work when you are vulnerable enough to display the love for your work because it is viewed to others as transparency. Potential clients will pick up on this excitement, which further builds your credibility.
Identify a Need and Where You Ft In
The beauty of being a digital nomad is that you don't necessarily have to have a talent that only revolves around niche digital skills, such as IT, coding, etc. Elements of just about any career can be customized to work digitally and facilitated online as long as the WiFi connection is strong, and you have excellent communication skills and response times. General digital nomad skills and subsets can often be grouped into categories, but you can always find a skillset or passion you have that can be a unique version of these categories. Do not let these categories limit you, but instead guide your process of figuring out where exactly you fit in.
Category Skill Groups
These categories can be broken down into the following:
1. Writers
There is such a need for good writers. It is an underrated skill that not many people have. To be able to craft messages in an engaging, storytelling way while also choosing essential facts and figures that need to be included with readability is an art. Writers are required for just about any topic you can imagine because there are so many people with unique passions that are eager to get their knowledge out to the world, but don't know exactly how to. That's where having this skill set comes in.
Some popular digital nomad forms of writing often include travel bloggers/influencers, journalists, and writers who can adapt to various niche audiences. If you are talented with words but also able to follow blog post guidelines and formats, you can familiarize yourself with nearly every topic and audience required. Again, knowing SEO strategy can help propel your writing to the top of search results pages, which helps draw in more and more clients as it shows your ability to make a piece of work stand out from the crowd.
2. Media Connoisseurs
Our world is fascinated with the media. This realm only continues to grow with an increased need for video editors, musicians, podcast producers and editors, photographers, social media experts, etc. Multimedia is what propels entrepreneurs and new businesses to the next level, and almost anyone can agree that a strong media presence is vital to the success of a company.
If you are a digital nomad influencer, looking to be your own business through self-branding, then you must have an influential presence on these various platforms. If you are passionate about media but don't necessarily want to be the center of attention, influencers can hire you to do a lot of the guesswork for them to propel their own platforms. There are various ways to show off these crucial skills, whether you are marketing yourself as a brand/business or you are working behind the scenes with business partners.
3. Marketers
It goes hand in hand with social media experts, but there are other forms of online marketers as well. Brands and businesses need marketing managers who outrival competition in the fields of search engine optimization, click-advertising, and affiliate marketing.
A strong advertising presence is so essential for the digital business, and most people are so daunted by the task of getting their brand off the ground through marketing that they don't know where to begin. The ability to step in as someone to help take those reigns and guide a marketing action plan with various channels to do so is highly valuable and business owners will be so grateful to turn to someone who can minimize those stressful aspects.
Often, marketing is what can make or break a new company, so there is a huge need for business owners to seek out those people who can be trustworthy and excellent knowledge banks.
4. Instructors
If you love helping people and have the skill to teach but do not want to be bogged down by a regular teaching schedule, then this might be the right position for you. There is a high need for instructors and teachers to transfer traditional teaching skills to online sites.
English tutors especially are in high demand, but, if you have a skill that others are wanting to learn and a WiFi connection to teach that skill, then you can be valuable. Even if that skill is a very particular niche, if you can find a market and demand for it and are willing to build interpersonal student-teacher relationships via the internet, you can become very valuable.
It is a perfect example of working smarter, not harder. You might not believe that whatever skill or passion you have is marketable, but with a little research, you would be surprised at what there might be a need for. Don't count a skill or asset out before fully educating yourself on the opportunities to spread that skill.
5. Virtual Assistants
We spoke a bit about virtual assistants in our last article about how to build your career. This position is excellent for someone who is a jack-of-all-trades. If you are comfortable with Microsoft programs like Word, Excel, and Outlook, and can keep on top of a schedule, then being a VA is an excellent option for you. You do have to be self-disciplined and very organized for this role, as someone else's day to day life is entirely dependent on your ability to complete that role well.
This role could be significant for the natural planner who loves organization and organizing things. It is very fulfilling knowing you are somebody's go-to person, but be ready for a lot of responsibility and the need for flexibility as you are asked to complete highly individualized and personal tasks.
6. Programmers/Designers
Programmers and designers probably require more than just a beginner's level skill to get employment. That is not to say these skills cannot be learned, but if this is the career path you want to take as a digital nomad and you do not have any prior experience, it might require a more significant investment of time and money to get a faster jumpstart.
Programmers and designers should be able to develop or customize HTML codes for mobile applications and websites. They need to be able to understand plugins, databases, computer software, and cache and cookies, to name a few. Many of the skills required to be a programmer would require some computer coding class or foundation. However, designers can be a variety of things, and these skills might be easier self-taught than coding, for example.
Designers can range anywhere from website designers, to graphic designers, to software designers. Website and graphic designers require an eye for the aesthetic, which can be learned through practice on downloadable website programs such as Wix.com or GoDaddy, and creative design programs such as Canva and Adobe.
Types of Jobs and Where or How to Find Them
Now let's look closer at some of the actual jobs and where to find them.
Hereunder, I will get to the particular jobs that will not put an anchor on your travel ambitions and will allow you to travel some more. Read on to find out.
1. Blogging
Blogging has become a viral job among digital nomads since it allows them to work from anywhere. There are two ways that you can make some money as a blogger: you can choose to sell your content blogging services to clients around the world. Or, you can choose to set up your own blog and monetize it. You can even decide to do both.
How Beginners can get started
For a beginner, the most viable and easiest way to start is to sell your content writing services to clients. Businesses, especially startups, are always on the look-out for skilled bloggers who can administer blogs on their behalf. It is because well-administered blogs help to develop a firm's online reputation and even improve their search engine result ranking.
If you have excellent content writing skills, you can start making decent earnings as you blog for your clients.
You have to note that this job is quite competitive, and you will, therefore, have to improve your skills with time.
Where Can You Find Work?
It might seem exaggerated, but blogging jobs are spread across the internet. Targeting sites that attract bloggers will afford you more success than putting more focus on freelancing websites. Some of the websites that attract bloggers include:
Problogger jobs
Upwork
Textbroker
Fiverr
As I had mentioned earlier, you can also decide to set up your own blog and monetize it. How does this option work? Firstly, you will have to realize that this option will not work if your blog is relatively new. You will have to establish sufficient following before you can start thinking of monetizing your blog. People need to feel a sense of trust before they can start giving you money.
To make a living out of your blog, you should consider selling digital products like online courses and eBooks. Many freelance bloggers are making some more money by guest writing for other people. More ways through which you can make a living from your blog include:
Affiliate Marketing: Your blog will introduce like-minded people who visit your blog to products and services. In return, you will receive a percentage commission if the visitor buys a product from the seller.
Google Adsense: This strategy involves displaying banners and ads on your website. You will then be paid by Google when a visitor clicks on the ad or depending on the total number of views the banner receives from your site.
Advertising Space: This strategy involves you placing an advertiser's banner on your page. You will get paid for as long as the advertiser uses your online space.
The more traffic your blog receives, the more you are likely to earn from the above methods: that is why it is vital to growing your blog first before expecting any substantive returns.
2. Virtual Assistant
A virtual assistant is probably the most common job among digital nomads. A virtual assistant is a skilled freelancer who can tackle different support tasks. Some of these tasks allow business owners to concentrate more on developing their companies without having to lose time worrying about the day to day running of matters.
There are numerous tasks that virtual assistants can take; this gives them more options to consider while getting hired. It is what makes virtual assistant positions one of the most viable jobs to have if you are a digital nomad.
A few services that you can offer as a virtual assistant include data entry, translation, email marketing, transcription, copywriting, social media management, web design, blogging, bookkeeping, administration assistance, and customer services.
How You Can Get Started
You have an excellent opportunity to kick off your freelancing career since you can start from the bottom to build a successful VA service business. I recommend that you find one VA service that you will be most comfortable doing. Some people are good at social media marketing, while others prefer customer assistance. Just start where you are most interested.
Where can you find work?
There are a few companies that hire Vas and connect them with interested clients. Companies such as Virtual Office VA, Zirtual, and Fancy Hands are a good example.
3. Web/ Graphic Designers
It is a good fit for artistic nomads who see life through color, typography, vectors, and shapes. Graphic designers create visual content that is used by firms to advertise themselves both offline and online. Think of brochures, logos, merchandise designs, business cards, memes, and some flyers.
Web designers, on the other hand, create amazing websites that you come across while seeking information online. In most cases, a web designer can be a graphic designer and vice versa, as there is an overlap of tasks.
You can make money as a designer regardless of where you are located. So much of the work is completed through a computer, so there is no need to curtail your movement. Additionally, designers will remain in high demand since marketing is quite crucial to most firms.
Design is best done by people who have a creative and artistic bone in them. You can begin by taking required courses that can sharpen your creativity and turn it into a cash cow. You can quickly be done with the design courses, and then start working on your own projects like simple logo designs, a personal website, business cards, and such material. You will use these creations later on to create your portfolio.
Where Can You Find Work?
Designers are always in high demand, and you will not have to sweat blood to get your first client. Of course, you can decide to sell some of your works directly, or you can look for a long term online job. Some of the places where you can find potential clients include:
Upwork
99Designs
Toptal
Envato studio
Juiicy
Behance
Awesome Web
4. Data Analysis
Firms collect data in the form of sales figures, market research, and so logistics. Data analysts take the data and interpret it to assist the firms in making better decisions. Businesses use this data to interpret their performance and analyze consumer behavior. Beginners can start by learning data analysis skills before embarking on a job hunt.
If you are thinking of leading a digital nomad lifestyle, the lack of constant pay might seem like a big deal for you; and you see this as a deal-breaker in every way. DO not be afraid to give it a try. Due to the growing influence of the internet, it is quite easy to connect with clients who are looking for freelancers. There are numerous marketplaces and websites where jobs are posted daily. Some of these projects will allow you to work remotely. More so, getting started on these sites is easy: sign up, look for work, and start earning.
Final Thoughts
Digital nomads who choose to adopt a work/travel lifestyle must remember the importance of balance when it comes to their work and personal life because they are often merging the two. Make sure you are working smarter and not harder where you can but also investing the right amount of energy and resources when starting this journey. Hard work at the beginning of the process will save time later down the road and better equip you for the flexibility needed to maintain this lifestyle successfully.
Cultivate your passions and find a market for them, but make sure you are filling in knowledge and necessary skill gaps through research, hard work, and self-discipline. It's a recipe for success as a digital nomad, and that combined with beginner skills will only help you grow personally and professionally as you rack up more work and travel experiences.